There are many Android power users out there thinking of switching to iPhone. Or at least how would the switch affect them and their daily phone usage. What's better in the Apple ecosystem and what's worse? As a power user, I've taken the step myself to see whether I could use an iPhone as a daily driver for some time. Below are my observations and experiences of this switch.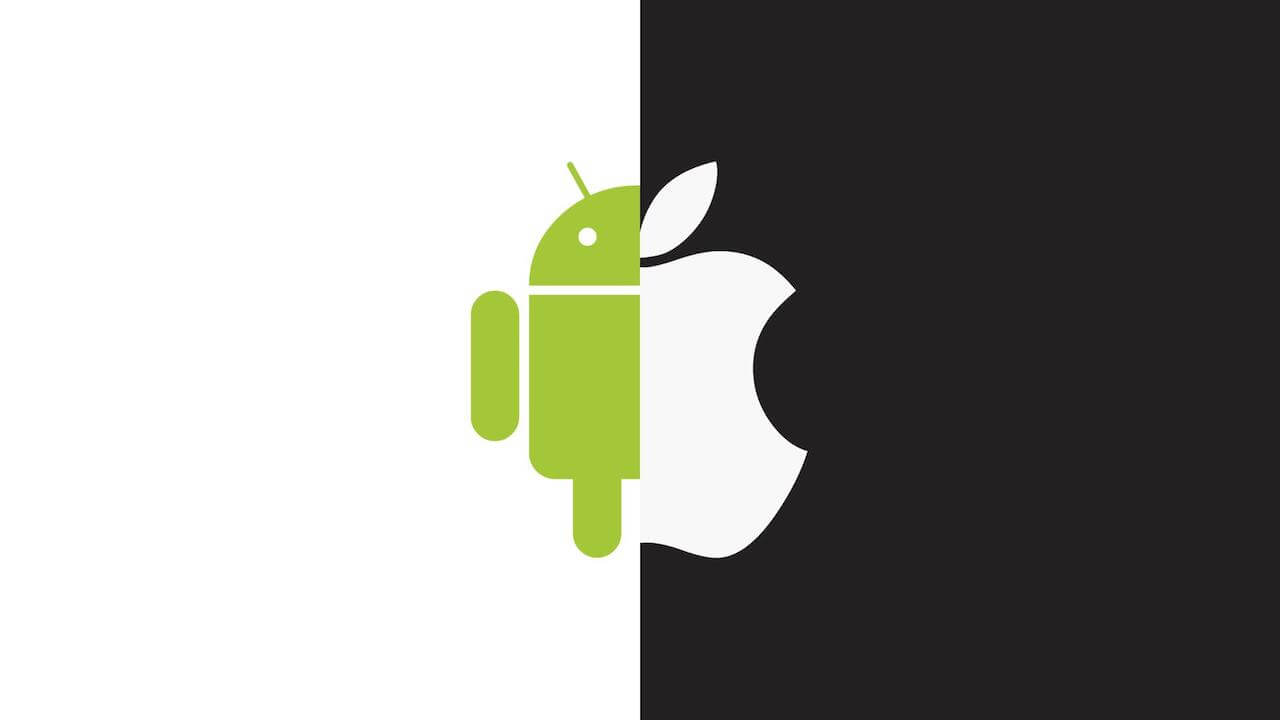 Purchasing a smartphone as an enthusiast tends to be quite troublesome, at least for me. I've had plans to buy a phone for several months, tinkering which one should I buy. The biggest problem for me is knowing most of the drawbacks of every phone I'd like to purchase. Starting from general things like non-stock Android, bad camera quality, warranty, slow software updates, large form factor (large phones, large bezels), inverse screens (jelly scrolling, OnePlus 5) to smaller, less important things like bad fingerprint placement, bad resale value, ease of unlocking bootloader, etc.
Being exposed to communities like Reddit and XDA, reading complaints from users about their phones makes purchasing one a much harder process. I had daily tinkering of phones I'd like to buy, and how would their drawbacks affect my daily usage.
Starting my Android experience from Galaxy (S1, S2) lineup, where I tinkered with plenty of custom ROMs. I've quickly moved to Nexus phones back during Galaxy Nexus, as having better custom ROM support was one of the most important things I looked for during phone purchases. During those times (University) I had an ad on local craigslist for installing custom ROMs, earning some pocket money. I didn't like the Nexus 6, mainly due to its size, so I skipped it and went through several phones, all being rooted and flashing custom ROMs on them since day one.
As I grew older, I started appreciating other things more, such as simplicity and 'hardware' quality. Lately, I was looking into purchasing a phone. I look at plenty of stuff while buying a phone, but my priorities are looking like this, not sorted by any meaning:
1. Small form factor
I tend to prefer smaller phones. Even though I have bigger hands and I'm quite fine with using my wife's Mate 9, when it comes to my phone I want it to be small. I believe it is related to being in front of a monitor most of my day. People without a computer use their phones for all sort of things (sending/reading emails, messaging, watching movies, etc.), while as a programmer I do most of those on my computer. I use my phone for voice calls, chatting, and reading Reddit/HN while commuting. My ideal phone size is somewhere around 4.5 and 4.8 inches, depending on the bezel size. If there were an S8 'mini' with a five-inch screen, I'd purchase it in a heartbeat. But for now, I have to settle using smaller phones with slightly larger bezels, which was one of the reasons I bought an iPhone. There aren't many flagship smartphones with the smaller form factor, and iPhone, at least the standard variant, is one of them.
2. Software
For general folks out there are only Android and iPhones. Perhaps even 'Galaxies' and iPhones. But any Android fan will tell you that there are many flavors of Android. And no, not the Android cake names.
TouchWiz, Optimus UI (LG UI), Sense, Bravia (Xperia UI), OxygenOS, MIUI, EMUI and most notably clean, stock Android.
For uninformed, Google is the company developing Android. Development of open source part of Android, AOSP, is led by Google. In simple words, stock Android represents AOSP build without much changes to the interface. Google provides such software on their own devices (Nexus, Pixel), OnePlus and to some extent Motorola phones, especially the pre-Lenovo ones. Custom ROMs, like LineageOS (ex CyanogenMod), provide stock-like experience with additional features for wider audiences, supporting many phones from various manufacturers.
Then there is Software made by Sony and HTC, which is close to what stock Android looks like, containing small UI changes and under the hood improvements.
Most other manufacturers, like Samsung, LG, Huawei, and Xiaomi, tend to modify the interface heavily and to some extent functionality of their phones. Their interface looks very different when compared to Stock Android phones, to make their phones more unique. More often than not they have worse RAM management, the software comes with 'cleaners' that kill background apps to 'save battery' etc.
Apple doesn't have this 'problem,' all iPhones, newer and older ones, look and feel the same.
3. Pricing
Overseas folks purchase their phones on contract with their provider, making the price factor a bit less relevant. When buying phones off-contract, the price difference matters much more. With Android, there are lots of budget and mid-range phones that you can purchase relatively cheap. Used Android flagships tend to cost less than their iPhone counterparts, due to worse resale value. With iPhones, you don't have much choice when purchasing new ones, and they have the highest price. Apple still offers SE for a $399 as a mid-range device.
Manufacturers like Xiaomi often their phones at a bargain compared to these prices, providing mid-range phones like Redmi 4 Prime and Redmi 4 note for a $120-$150 price factor, so I often question myself is paying 4-5 times the price worth it?
4. Hardware quality
You don't get to read much about hardware quality when quickly searching for a phone on sites like GSMArena. You get your usual screen size, resolution, RAM and ROM, dimensions, sunlight visibility, battery size, etc. But signal reception, audio quality during calls, speaker loudness and similar things aren't something that you'll be able to learn about if you just see phone specs. High-quality reviews often mentioned these, but not always. As an example, Nexus 4 had the worst camera for night photos, and on Nexus 5 my speakerphone was too quiet. Apparently, iPhone comes as a clear winner here, where you know that hardware quality is top notch and that they made no sacrifices.
5. Resale value
Depending on what you do with your phone once you're ready to purchase a new one, resale value might play a significant factor. If it's essential, buying a used phone tends to return most of the money spent.
Some phones hold their value better than others, and iPhone is a clear winner here. iPhones and Galaxy flagships (S and Note lines) hold their value quite well, unlike other brands.
6. Availability
You can't purchase a phone if it's not available. For example, places where there is no official Play Store for devices have a scarcity of Nexus/Pixel phones and they tend to be overpriced by a lot.
After considering all these priorities, I settled for a brand new iPhone 7, even though I never used iOS extensively before (had an iPhone 5 during travels at my previous job, but used it only to make calls and for navigation).
The Switch
Before purchasing the iPhone, I was familiar with the majority of things that I'd like and those that I don't, by reading other people comments after they've taken the same path, or switched to Android from iPhone. Notifications, no back/recent key, no MTP, etc. After using an iPhone for approximately three months as a daily driver, I can give a detailed review of it from an Android user's perspective.
The Good parts
When I try to describe myself and others iPhone vs. Android situation, I say that on review, I'd give iPhone a B, while some Android phones might get an A- or even an A. But iPhone has uniformly distributed points, scoring everywhere between B- and B+, while Android phones have few Ds and Es.
Hardware Quality
Just holding the iPhone gives a premium feel, due to its build materials, feeling sturdy and durable. The camera is fantastic; fingerprint sensor is fast, the display is crisp and sharp even though it has a much lower resolution compared to Android flagships. Yes, there are phones with better cameras out there (U11, Pixel, S8) but iPhone's camera is top notch too. And yes there phones with faster fingerprint scanners (OP3(T)/5, S8…). But the one iPhone is fast enough. You get it. I'd give most of its hardware parts a solid B, while there are dozens of phones that get an A in particular areas. But with iPhone you get consistency, never getting a C regarding hardware quality.
Timely updates
There's one thing Apple talks about on every Keynote, which they do much better than Android - timely updates. On iOS devices, you get updates as soon as they are released, not being held by manufacturers or service providers. And you get them for five years straight. Apple genuinely laughs on Android fragmentation every single year.
On Android your updates depend on manufacturer and network provider, not only Google, so you usually get them 6-9 months later, on flagship devices unless you own a Google phone (Nexus/Pixel). Android manufacturers brag about providing software updates for two years, and security ones for three. Project Treble, a feature introduced with Android Oreo, might change this though.
A bright side for Android power users is that there are always alternative Custom ROMs, allowing you to flash latest updates a month or two after major releases on most devices.
Privacy
If you own a smartphone, and you probably are, most of your privacy (at least messaging, pictures, locations..) is gone. Even though we force ourselves not to believe in it, it is our sad reality. But when choosing between Google and Apple, the latter does much more to protect your privacy.
Google is primarily a software company; they make their money via software. Their most profitable product is adware, their ad network. To improve their product, they need as much information as possible from their users. On the other hand, Apple is a hardware company, making most of their buck through selling iPhones, iPads, and Macs. As an example, you can provide apps access to your location only when you use them, preventing them from getting your location while you're not in the app.
Luckily I didn't have a chance to use it, but through speaking with friends that did, Apple's theft prevention (locking device/iCloud, find my iPhone, etc.) ensures none gets to see my photos, chats, not even a thief.
I'm using a 3rd party keyboard on iOS, SwiftKey. When inputting sensitive information, like password or credit card info, the keyboard automatically switches to default one to ensure confidential information is not sent to 3rd party apps.
Due to law enforcement agencies in the US requiring people to unlock their phones with their fingers, in iOS 11 it'll be possible to disable TouchID quickly and require passcode to access one's iPhone, proving yet again Apple is trying to protect user's privacy. Not that it helps much: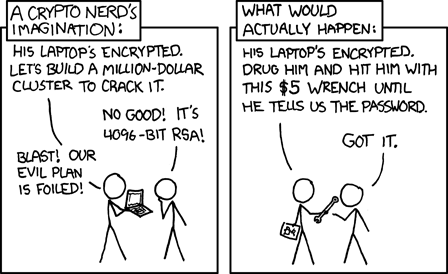 If privacy is your primary concern, I definitely wouldn't recommend Android or iOS devices with default software.
Your best bet, if you want to use a smartphone, is to purchase a Nexus 5x/6p and settle for CopperheadOS or find a device that's officially supported by LineageOS and use your device without Google apps. Use an app like Signal for messaging, VPN for all traffic. You still won't be 100% safe, there is a lot of closed source software on your device, but you can't get any better than that, at least as a regular consumer.
Support and Warranty
Apple's support and warranty are top-notch compared to all other manufacturers. I've read countless of positive stories from people around the world praising Apple's support. On the other hand, support from other manufacturers, especially smaller ones like OnePlus get lots of complaints constantly.
Standby time
I was positively surprised seeing my phone not losing any battery juice during the night. Leaving at before going to sleep, and taking it 8-9 hours later with the same battery percentage. I'm used to seeing battery level drop anywhere from few percentages (4-5%) to something like 30% on custom ROMs (lots of time ago). Despite late improvements to Android, like project Volta and Doze, Android is nowhere close to iOS regarding standby time.
Other small things
App Store: There things I prefer on App Store compared to Play Store, and some that I don't. The design feels a bit outdated, but that's about to change with iOS 11 (although I still prefer Google's). Until lately, only on iOS, you could see the changelog by tapping on the app instead of going to the listing (Google added this recently). You can see the list of all in-app purchases; reviews are separated by all and current app version. Categories and search feel much better on Apple's iPhone and iPad.

Form factor: Although this is seen as both bad and good things about iPhones. Yes, iPhones have oversized bezels, and its screen-to-body ratio is one of the lowest. On the other hand, there is a scarcity on small flagships, and at least Apple is offering a 4.7" flagship.

3D touch: It felt a bit gimmicky at the beginning and the fact that it can mostly be replicated with long touch, but after some time I started appreciating it. Yes, you have to guess whether the app supports it or not, and you have to remember to use it (which I quite often fail to), but once you get used to in your favorite app, it speeds up the process of doing everyday tasks. I use it quite often to set different brightness level on the flashlight; something Android doesn't provide out of the box. But let's be honest, most of the things you can do with 3D touch can be replicated with long touch. Apple refused to make these features available for non-3D touch devices, such as iPhone 6 and SE.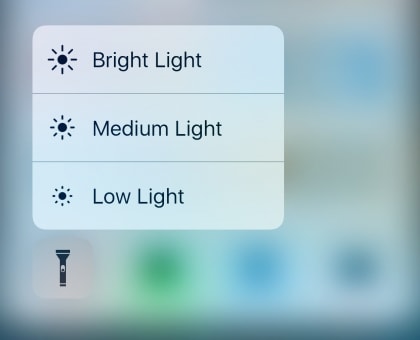 Live photos: I was pleasantly surprised after taking first photos and my iPhone and noticing that they move. When you scroll through Photos app (default Gallery) images move just a bit, 3D touching them you get to see 3 seconds video with sound. Although I was just taking a photo, what I got is more than a great photo — but a moment captured with movement and sound. I still use Live Photos occasionally, when I went to store pictures and few moments before and after taking the shot.

Mac Continuity: If you happen to own both iPhone and a Mac, default integration is lovely. You can accept voice calls on your Mac, Facetime, iMessage, Notes, pictures, notifications all seemingly synced across all your 'i' devices. You can probably achieve similar (but not the same) integration with Windows and Android using 3rd part apps like Pushbullet, but having it baked into the OS gives a good feeling to it.

There are plenty other small things on iPhones that make it an excellent device for lots of people that I haven't noticed yet. You can mention them in comments; I'd like to know more about what makes iPhone a great device for you.
The Ugly
Sharing on iOS feels far inferior compared to Android
No LED for notifications
There is no icon in status bar for silent mode.
Can't remove carrier name from the status bar.
In Photos app, you can't hold long to start selecting multiple photos. Pressing Select in the top right corner does this. Same goes for editing alarms; you have to click on Edit instead of long touch on an alarm. On the bright side, this is a better user experience, especially for novice users that may not know of the hidden 'long touch to select' feature. Images are sorted older to newer, instead of newer to older, without an option to change this behavior.
Scrolling in Safari feels too slow, and there is no way to change it. Safari feels very basic compared to Chrome, and its features tend to be hidden. I had to google 'how to search text in Safari' to find the search tool. Although, you can install Chrome on iOS. Additionally, pages with Reading mode in Safari need 2-3 seconds of additional 'load' before they become responsive
Lack of home screen customisation. Duh. Or any for that matter.
The arrangement of recent apps. I don't need to see the whole screen to switch to an individual app, making vertical layout much better. But that's now Google-esque, so Apple probably won't change this one.
Inability to long press/3D touch settings in control center to quickly access them, like Wi-Fi and Bluetooth.
Apps are taking too much space. This is mostly related to assets as for iOS you have to provide multiple ones for each resolution/device (iPad, iPhone+ and regular sized iPhone) were on Android they scale. According to SweetPricing, the average app file size is now 38MB for iOS mobile apps and 15MB for Android mobile apps
No headphone jack on newer iPhones. In 2016 this would be seen as something unacceptable, but unfortunately, other manufacturers took notice and are removing headphone jacks from their devices.
Lack of back/recents button. Aforementioned is by design, and Apple is never going to change it as a single button is their design trademark, but I miss both buttons often. Swiping from the left part of the screen to go back is something I got used to quickly, but having to double tap home button to get to recent apps screen, and inability to double tap it to open previously closed app is something I miss from Android.
No T9 calling support in the dialer.
Volume controls are non-existent. To reduce media volume, I have to open a 'media file' and then reduce the volume. By default, you can only increase/decrease ringer volume.
Obtrusive volume screen
Swiftkey, a 3rd party keyboard, tends to crash quite often and fall back to default keyboard.
No way to change period for data usage. By default, it shows all data usage since the last reset. There is only an option to reset it.

Siri

Incoming calls take the whole screen: At first, I thought to put this in next category. When receiving a call, it takes full screen, and I can't-do anything except accept the call or hang up by double tapping the home button. Why it takes full screen (instead of a simple pop-up banner) and why I can't go to the home screen by pressing the home button to continue where I'm done, without hanging up is something I can hardly understand.
The Bad
Some things I see as ugly, and they are either by design there or overlooked, and I can get over them. But plenty of things annoyed me a lot, 'forcing' me to go back to look for an Android device as soon as I finished this review. Most notably:
Notifications and widgets
This is Apple's design choice I can't seem to get. For uninformed Android folks, imagine getting 12 messages from two contacts on your favorite messaging app, let's say WhatsApp. On Android, you would get a single notification containing "12 messages from two contacts", and by swiping it, you could quick reply/get more info on them. On iOS, you get 12 notifications, every single message being a single one. Why? I don't know. Before iOS 10, ability to group notifications by contacts was present, so instead of 12 notifications, you would get two for each contact. Apple removed this option, and most of the time now you are cluttered with notifications that you only clear. I see this way too often not to be bothered by it: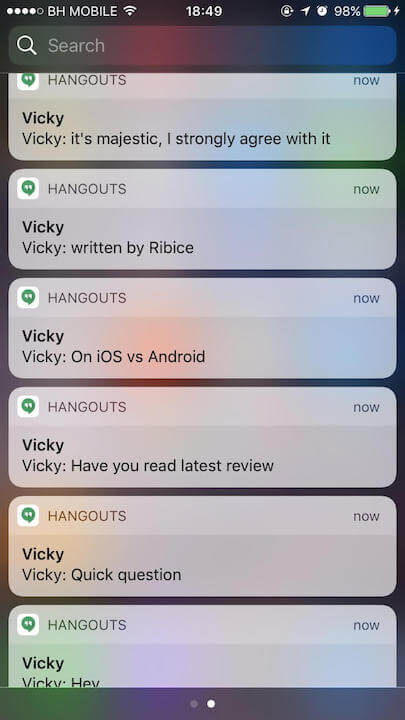 Widgets, introduced in iOS 8, are 'constant notifications' living next to standard notifications. Unlike on Android, where you can place them on your home screen, on iOS they live a left swipe from notifications or your home screen.
Control center
Control center by itself was a pleasant addition to iOS back in version 7. But it's much less useful compared to its Android alternative - Notification toggles. Although the gap is decreasing with iOS 11 control center being changeable, I still miss lots of futures from it.
Most importantly, seeing the list of available Wi-Fis and Bluetooth devices directly from toggle, instead of having just on/off switch.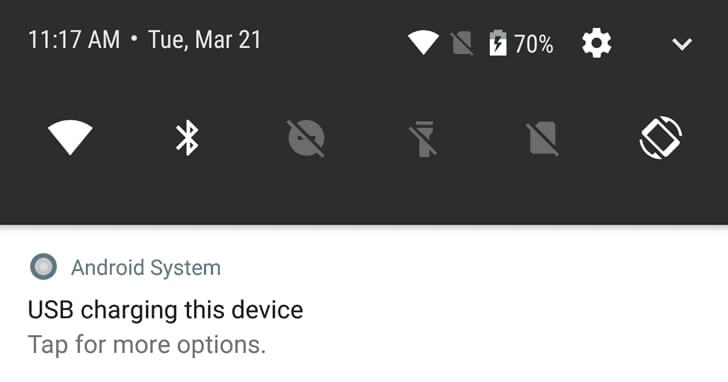 Additionally on Android long pressing a toggle opens its settings page, while simply tapping turns it off and on.
App design
If I said this five years ago I'd probably be called crazy and whatnot. But in today's world, I prefer well-designed Android apps over their iOS counterparts. Introduction of Material design significantly changed the look and feel of apps on Android devices. Take for example my favorite Reddit client on Android, Sync for Reddit. Since moving to iPhone I've been using Narwhal, but Sync works much better. I won't compare these two apps here. Instead, I'll just provide short video of Sync for Reddit for iOS users that didn't have a chance to use (or other Android Reddit clients like Now, Boost and Relay)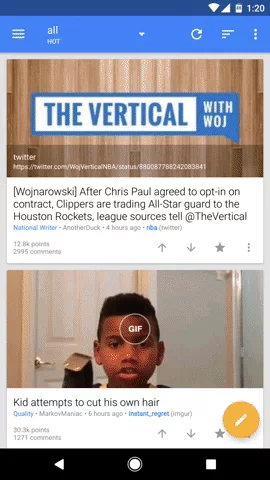 The stock apps feel and look better too; dialer, messaging, settings, etc. I wouldn't call Android a clear winner, and this one is very subjective, but my personal choice for better-looking apps is Android.
Battery life and lack of quick charge
Before purchasing an iPhone and I didn't check the battery life part of any review, and I have to admit that I was very disappointed. The standby time is phenomenal, yes, but screen-on-time and general usage time are too short for this phone's price. Unfortunately, Apple is still putting 'small' batteries on their phones, to preserve thinness.
Another technology Android has for the last couple of years and that Apple is still missing, is quick charging. Having your phone charge 40-50% in 10s of minutes is a great feature that I hope Apple will soon add to their devices.
Lack of MTP (Media Transfer Protocol)
This one isn't something that bothers me a lot, as my usage differs a lot from the general audience. I have no music on my phone, so I don't need to transfer it. But I'd often like to use my phone as a USB storage, to move files from my computer to it and back again, via a cable, and by using an iPhone, that's impossible, except for pictures. As cloud services take over (streaming music, videos, photos from 'cloud') improves - there are fewer uses for MTP. But in today's world, there are plenty of users without unlimited data where they'd like to have all this media on their phone and MTP makes it easy.
Summary / TLDR
iPhone is a lovely device, mainly for its hardware quality and the 'you-know-what-you-get' factor. You won't be burned by things like exploding phones (ahem), upside-down screens, bootlooping and similar malfunctions that happen on Android devices. People that are used to iOS are fine with it, as over iterations it doesn't tend to change a lot, unlike the majority of Android phones. There isn't a wide selection of phones to choose from, so it's easier to purchase either 'standard' or large size. Updates to all iPhones are released at the same time, and they get them for five years unlike Android's two years, and that's only for flagship devices.
But as an Android power user, I couldn't get myself used to an iPhone, even after using it for nearly three months. Many things bothered me, both small and big ones.
I would love from Apple to implement Android's 'developer options,' a hidden menu that lets you change some of the iOS behavior, like grouping notifications, editing status bar, some part of stock applications such as the dialer, etc. I don't expect this to change, not from Apple.
Last week, I exchanged my phone for a Samsung Galaxy S8. Except for its size and fingerprint placement, I'm currently quite happy with it. If I were purchasing a brand new phone again, I'd probably go for a Samsung Galaxy A3 2017.